Christmas now has it's own page with brooches as well
Farmers Market fairy dolls x
There are always such wonderful things to see and taste at farmers markets with fresh vegetables and flowers, and lots of local produce who can resist. When I came across this gorgeous fabric I knew a collection was in there somewhere, the girls have sparkle petticoats in green and glitter eyelashes and lots of charms. One of the little fairy dolls has been named by the lovely Jane, the name that was pulled out of the hat by the chief elf was Maisie x
Freida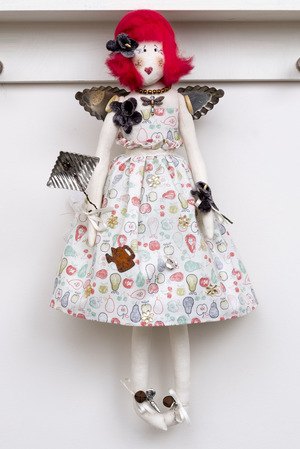 £135.00
View Details
Maisie (name chosen by our lovley customer Jane)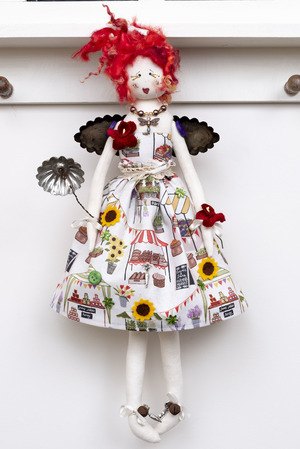 Sold - I've found a home
View Details
Felicity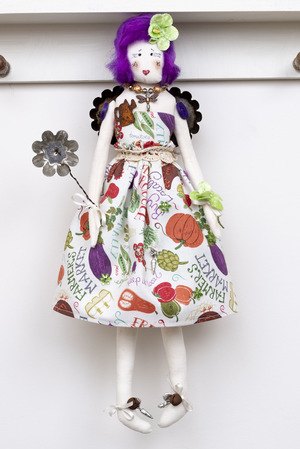 £135.00
View Details
---
Cottage Garden fairy dolls xx
Cottage Garden fairy dolls ..... well a garden is waiting for fairies to set up home, and to enjoy the abundance to play and hide in..... these little fairies even have dried flowers in their necklaces, a lovely charm which says "The Earth laughs in flowers" and lots of sparkle and glitter.
---
Vintage Circus fairy dolls x
Little hats and the merry-go-round are here in these little Vintage Circus fairy dolls along with acrobats and all things Big Top, each little one has a handmade party hat with gold elastic under her chin, and petticoats in blue with sparkle and glitter eyelashes, charms and flowers
Charlotte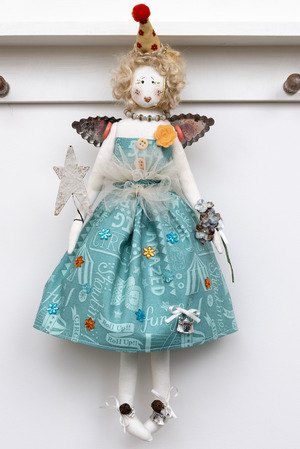 Sold - I've found a home
View Details
Clare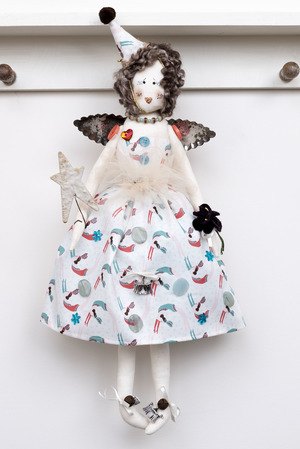 £135.00
View Details
Cathy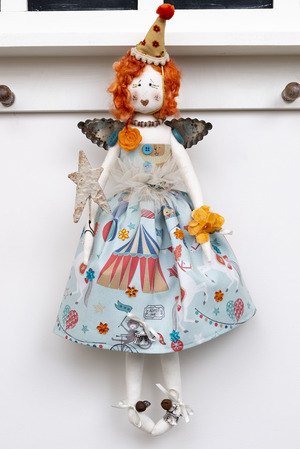 £135.00
View Details
---
City Life fairy dolls xxx
City Life fairy dolls are very busy having fun around London Paris and New York. I found this gorgeous fabric ...and yes there was a collection waiting to be made ... the fun charms, words and pictures make the linen dresses enchanting. And what City girl would not be complete without her sparkle shoes ( I hope you like them) to dash around the Big city, and not to forget glitter eyelashes and lipstick.
Melissa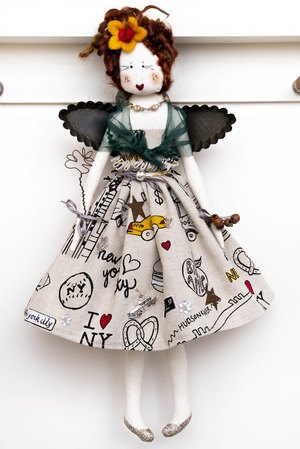 The last fairy in this collection
£135.00
View Details
---
Beside the Seaside fairy dolls
"Oh I do like to be beside the seaside so the song goes", with memories of Ice cream, candy floss and rock pools, the ice cream and funfair fairy dolls have very colourful fabric, turquoise sparkle petticoats and a bucket and spade charm ........" I do like to stroll along the Prom, Prom, Prom!
where the brass bands play, "Tiddely-om-pom-pom!"


written in 1907 by John A. Glover-Kind
---
Tales from India fairy dolls
Tales from India, who could resist these embroidered silk Indian fabrics with vibrant colours and patterns, sequins and jewels. Mythical tales are told through the patterns and dreams of what they may mean with wings made from a gold embroidered dark pink silk boarder.
---
Memories and Milestones Fairy dolls xxx
I have been using Debbie Mumm fabric for years, I am a great fan and her wonderful plates are such a joy. When I found this fabric Memories and Milestones who could resist. The large wooden letters and knitted wings just all seemed to go together xxx
Gertie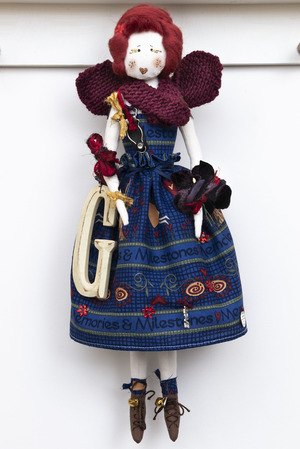 £135.00
View Details
Sybil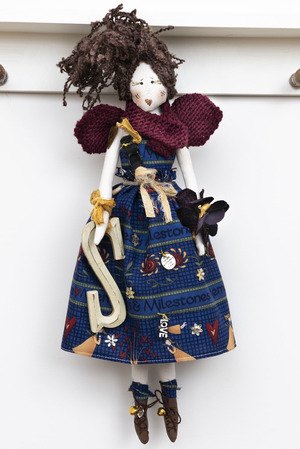 Sold - I've found a home
View Details
Edna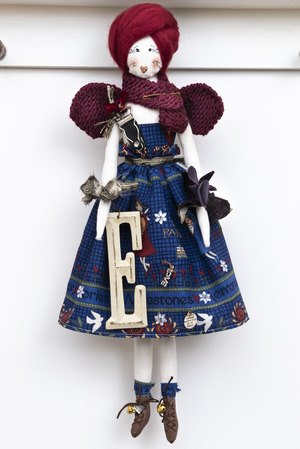 £135.00
View Details
---
Strawberry and Roses Picnic fairy dolls
These lovely ladies were inspired by strawberries and cream and Roses in the garden. Picnics by the sea with a little rockpooling and plenty of ice-cream.
Ellen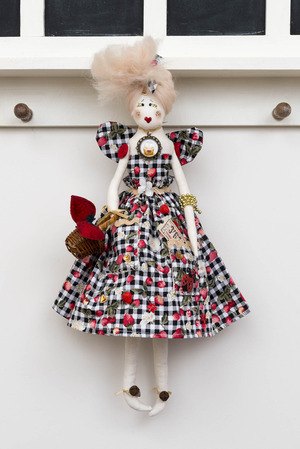 The last fairy in this collection
£135.00
View Details
---
Indian Spice Doll Fairies
Embellished with modern hand printed and vintage fabrics adorned with embroidery from times gone by. Each unique doll wears a swarovski crystal in her hair and have garments with beautiful trims. Each one has her own unique style, with a beautiful set of wings either hand made or fashioned from vintage French pastry cases.

Inspired by the mystical meanings of Indian spices in which each of these lovely ladies have been named after.
Ginger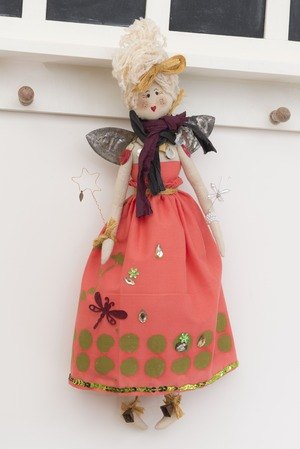 The last fairy in this collection
£135.00
View Details
---
Ballerinas
The ballerinas have arrived and are looking very colourful, I was inspired by Coppélia, where with a little magic and love the dolls come to life.
Bettina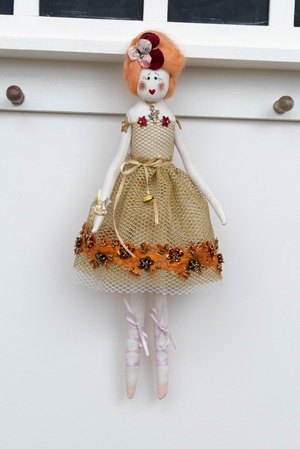 The last fairy in this collection
£125.00
View Details
---
Angels
The Angels are here with rusty halos and rusty wands, Swarovski crystals in their hair, you may feel a gentle breeze as they pass by.
Gabriel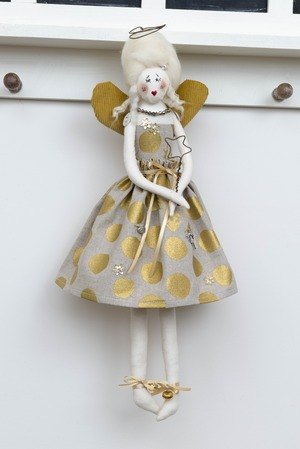 The last fairy in this collection
Sold - I've found a home
View Details