May 1st, 2020
It is Grandma's week this week ...
...... and a very special fairy doll xx
Please meet Queenie, she is my grandma's sewing box fairy..... the material for her dress I mentioned in a previous blog was an old cushion I had seen in her house forever, the rest of the trinkets are from her lovely old button box, a button, press stud or 2, crocheted collar and flower, hook and eye earrings, and last but non least a bobbin hat. Her necklace reminds me of a picture I have of my Mum with teddy bear xxxx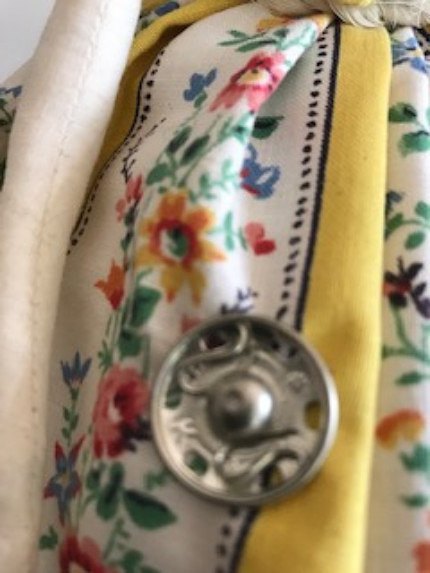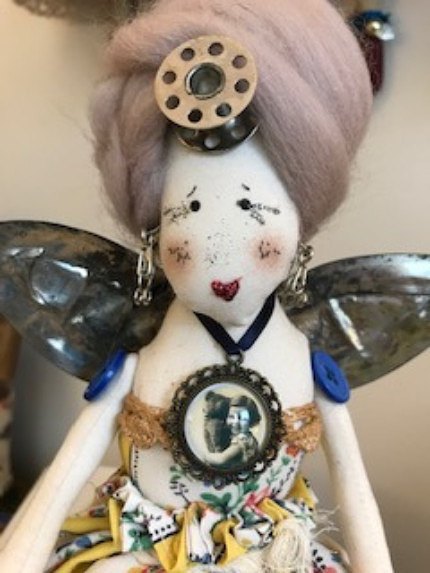 A lovely large press stud, these were on one of those cards A reminder of a picture I have of my Mum, Nanny's
so gorgeous very 1950's xx daughter, and a stylish bobbin hat xx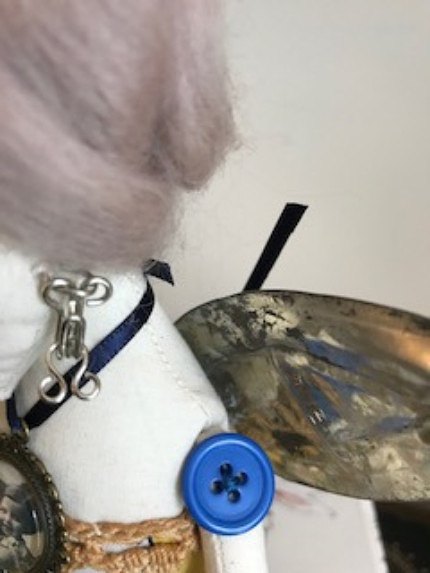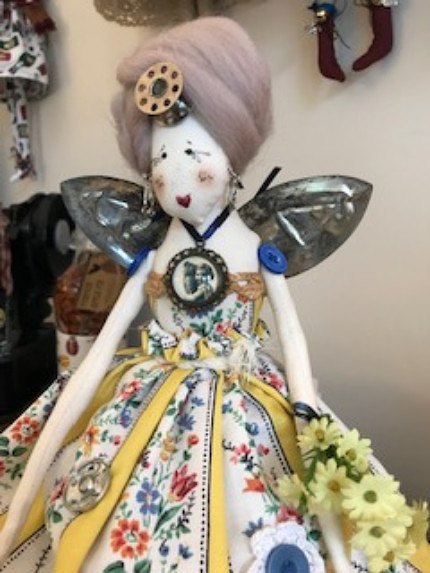 Hook and eye earrings, again on a lovely old card xxx ........ another picture of Queenie with a yellow posy xxx


Nanny's old sewing machine which is in the studio xxx ....and this is a picture of a pocket fairy I made for the Chief
stuffer my sister, to keep her safe on the front line working
in a supermarket locally, she is tucked into her pocket xxx

.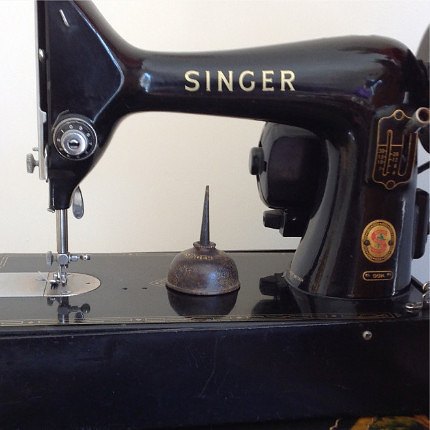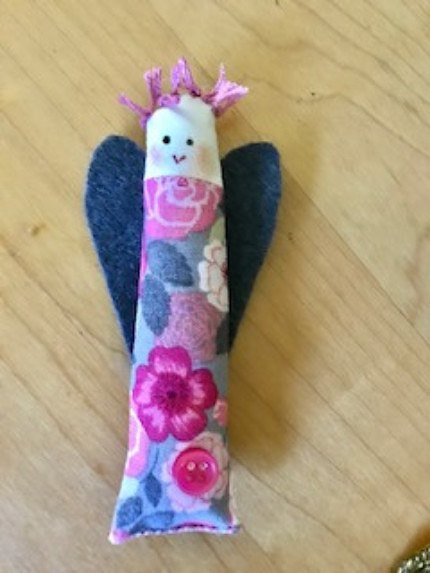 ---
Comments (7)
Miriam Sellars
- May 1st, 2020 2:34pm
All beautiful Chris. I think you should make more pocket fairies. I think people would love to buy them in these uncertain times. Also good for children starting school - a bit like a worry doll. I for one would buy one. Take care - Miriam x
Reply
---
Rosie
- May 1st, 2020 2:52pm
I absolutely adore Queenie, what lovely things to use from Grandma's sewing box. I love the little pocket fairy also, very precious and will hold memories of this very strange time. Love your site x
Reply
---
Susan
- May 1st, 2020 3:55pm
Queenie is a special tribute to your Grandma and Mum. Love the pocket fairy too.
Keep safe and well. Susanx
Reply
---
Mel Crossfield
- May 1st, 2020 5:55pm
She is just amazing, a real treasure trove of the past. You are so talented. X
Reply
---
Sally Timpson
- May 1st, 2020 6:53pm
I have cards of those old press studs (poppers) and hooks and eyes that belonged to my Mum. Also lace collars and old lace ribbon.
Reply
---
sue Jones
- May 3rd, 2020 3:33pm
Love Queenie and indeed all your other dolls too. Very inspirational and I love how each and every one is so unique. Beautiful. Best wishes Sue (Blackhill Donkeys) x
Reply
---
Hortensia
- May 4th, 2020 4:13pm
Anytime your Dolls are beautiful.
Reply
Leave A Comment


Thank you for your comments, they will appear shortly once approved.